Empty nesters are downsizing
Living and working in Israel, I have had the opportunity to work with quite a few clients who were looking to downsize.
People move to smaller spaces for a variety of reasons, such as retirement and changing lifestyles, some have a desire to travel more, for some the daily upkeep of cleaning, maintenance, furnishing, outdoor home upkeep and the cost to run all of these factors can be a major concern.
While other clients, who moved out to bigger houses 20 years ago when the kids where small, are now moving back to apartments in the center of town, which is more appropriate to their needs.
Whatever the reason, for the downsizing to work you have to make your new space feel at least as luxurious as your previous home and ensure that it meets all your needs.
Whether you love to entertain, have dinner parties or whether you need a home office, your space should not feel cramped.
Some people are concerned that a downsize means that they cannot make their home look fabulous, but that could not be further from the truth.
Creative organization of your new home to suit your needs is vital for achieving comfort and function, but when you, together with your interior designer, combine that with style and flair, you can own one of the most beautiful dwellings.
Let me give you some tricks of the trade: The actual downsizing process should start well before you move; the very first thing to do is take a good look at your belongings.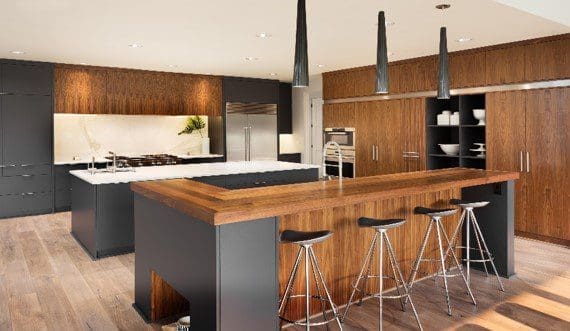 Determine what is important, which items have outlived their usefulness and what items you ideally should replace.
I have found that the most efficient way of doing this is to have my clients make three lists: Must keep, can live with-outs, and items you should replace.
Your "must keeps" obviously need to come with you to your new abode, your "can live with-outs" are the things you could sell, donate, or get rid of entirely.
Your "replace list" is for furniture or treasure that you could sell or donate and buy something more appropriate for the new house.
For example, buy a new dining room table with extensions to replace the 3-meter long table you own today.
By the way, for those of you who are considering making Aliya and intend to bring over furniture from overseas.
You have to take into consideration that the houses in Israel are smaller than the houses you live in overseas.
You have to measure your furniture and your available space, consider it and only ship your furniture when you are sure it will fit the room.
When planning your new home, it is important to determine how you want to use the space and make structural changes to ensure that you can really get the most out of your living space.
 For example, one couple can be looking for a refreshed, warm and harmonized look and a space that can cater for entertaining friends, kids and grandkids.
In that case, some major spatial reconfigurations may include transforming the second bedroom into a study/den area, as well as alterations to the kitchen and giving extra amenity and storage in the master en-suite, walk-in closets and integrated outdoor dining on the terrace.
Another owner's need might be double-duty rooms, in that case, there are a lot of tips and tricks that designers use every day to help you achieve that beautiful home office/guest bedroom combination.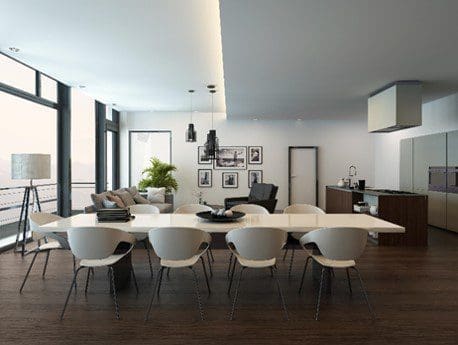 In all cases, whether you have a modern, traditional, Scandinavian or contemporary interior, your new lifestyle and space require careful planning.
Your home should be practical, functional and utilize every centimeter of space (in fact, with the right design you can increase it by vertical space usage) while at the same time achieving a beautiful design.
Creating space through different illusions is critical in designing any small area.
Choosing the right colors and finding the correct color scheme is one of the ways to visually increase your space.
Carefully consider the optical influence of color in the room before finally implementing it.
Wall and floor colors serve as the foundation stones of a successful interior.
Using a light color paint or wallpaper on the walls will give the illusion that your room is larger, darker colors on the wall do exactly the opposite by absorbing the light, instead of bouncing it back.
Another fabulous way of maximizing your space is by taking advantage of unused vertical spaces. Design, for example, high shelves and cabinets.
This will not only help creating valuable space for storage but also free up floor space, thus making the room feel vast and less busy.
High-mounted shelves and storage compartments make the room appear optically taller as it draws your eyes in the upward direction. Make sure that the cabinetry or shelves you design are light in color and are not too much in contrast with the walls. Too much contrast will give the feeling of cutting the space into smaller pieces and not letting the eye glide through and feel the spaciousness.
Mirrors are an excellent tool for creating the illusion of space. They possess the property of amplifying natural as well as artificial light and then radiating it throughout the room. This makes the rooms' interior much brighter and makes the room feel much larger than it actually is.
While the whole concept of downsizing might seem overwhelming at first, in the end most agree that staying in a home that no longer meets the needs of your current lifestyle is pointless.
Downsizing your home can be the first step to a much more efficient and streamlined life.
If you need any help, give me a call and I will be happy to come and give you a consultation.


Yetti Slasky